Wakao App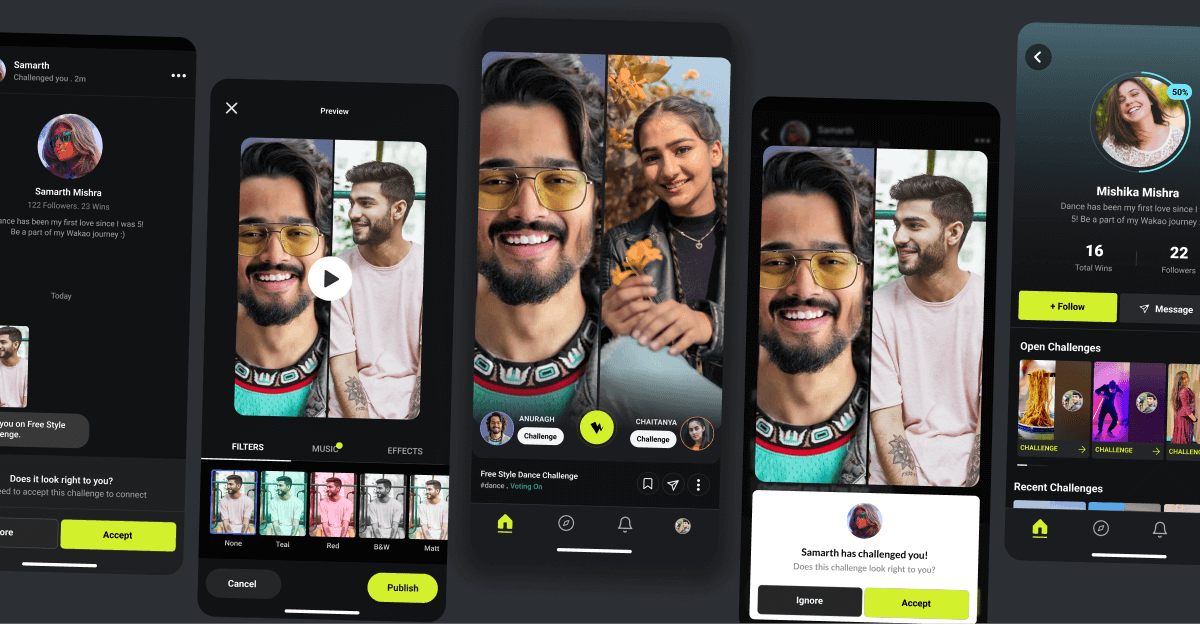 D1 retention increased to 50% and creator retention to 70%
Wakao does challenges best. Our goal was to simplify the challenges funnel even further and create an engaging experience for our users that increases delight and shows value proposition at the earliest.
Our primary focus was discoverability, show progress, and show value. We wanted our users to be happy that they created a challenge, feel excited about the results, and be engaged.
Read Complete Story
Design Stratgey
User research
Product Design
11.5min
avg time spent/day
ArtistOne
Giving artists control over their own music.
Our product grew from a small startup to a globally used music app by millions, from 9K artists to160K artists we realized that prioritizing artist insights was imperative to the product's scalability. It was time to buck up and get out our books ready to understand what they need and how they interact with music.
Creating an analytical tool is simple enough. Make things look pretty within some defined structure. We weren't interested in that.
Our goal was to create a tool with real insight behind it so that every artist that uses this platform not only gets to see stats but feels connected with their fans.
Use Live Product
Read Complete Story
Conceptualization
User Research
Design
160K+
Artists Onboarded in 3 Months
JioSaavn Web
79,910 users acquired on the first day, a 17% increase in pro subscribers through the web.

4m+ users were using the jiosaavn web version with dated experience and legacy UI. among which 63% were on m-web. We wanted to convert all of them to our mobile app.
Mission was to improve the user acquisition funnel, create a quick touch point from searching to switching to a music app, and give old users a familiar cohesive experience on the desktop.
Use Live Product
(Case Study Coming Soon)
User Research
Product Design
Design system for web
Feedo
Real-time feedback and smart analysis for your digital meetings.

The sudden increase in zoom meetings was a big bummer - I couldn't find an app that did what I was looking for. Something that can assist people like me and me in and out of the meetings. Something that can point out my poor communication habits and give honest real-time feedback. Something that helps me grow as a communicator. Think of it as Grammarly but for video calls.
We just started working on our v2. Our mission is to Create a valuable platform for people to be confident when they speak.
Use Live Product
Read Complete Story
Conceptualization
Research
Product Design
2,00,000
mins of audio processed
5,000
Users participated for pilot
JioSaavnTV
Music is what we do best. But seeing music too –
wouldn't that be something?
Improving usability, Simplifying interactions and userflows, brinigng in tracffic and maintining the best music app standards was a headache for Tv. We built this app primarally for STB and eventually scaled it to Amazon FireStick and Android TV.
(Case study Coming Soon)
Research
Conceptualization
Design
Usability
+10L
Monthly Active Users
MG Car
JioSaavn music services to MG Astor, MG ZS EV, Ola Play & More cars
With ambitious growth and revenue plans, JioSaavn planned to significantly venture into partnership models. In this journey we created an app for car usage.
Imagine where all apps are fighting for your attenstion span and we have to build an app that smoothly get's the job done but do not draw much attenstion.
(Case study Coming Soon)
Research
Conceptualization
Design
Usability